Whether your need is immediate or a loving act of pre-planning, we invite you to experience the peaceful year-round beauty of Hope Memorial Gardens.
Pre- Planning Information
Pre- Planning Information
Suppose you were called on tomorrow to arrange a funeral for a relative or a friend
Would you know what to do?
Where would you turn for reliable answers to dozens of questions that immediately arise?
Where would you learn how to protect the ones you love?
Somehow you would have to become a funeral expert on the spot. Within the next few hours you would discover you would be called upon to complete eighty-seven different tasks.
To assist you, the Lutheran Cemetery Association has a complimentary copy of "What My Family Should Know"
This booklet will cover many important details including:
How to register important information
Information on Social Security and its benefits
Important Veteran benefits
Reasons why you should have a will
Duties / Responsibilities of an estate executor
A checklist of those eighty-seven tasks mentioned above
For your free planning guide notify either office or contact us.
The first decision to consider is full body interment or cremation. After this decision, the next consideration is in-ground or above-ground repose of the remains.
Cremation Inurnment
Each cremation space will accommodate two cremations.
One full size gravesite will accommodate two cremations. A one-half in-ground grave space will also accommodate two cremations, however, the memorialization will be subject to size limitations.
A columbarium is a granite wall with compartments, called niches for cremations. Each niche will hold two cremations. Columbarium gardens are available as an above-ground option for inurnment of cremations
The Crown of Life Chapel and Mausoleum at Hope Memorial Gardens also provides niches on the exterior of the mausoleum or glass front niches within the Chapel of the mausoleum.
Full Body Interment
Each in ground gravesite will accommodate one full body and up to two cremations.
Hope Memorial Gardens gravesites are memorialized with flush headstones only. Above ground burial options are available only at the Crown of Life Chapel and Mausoleum located at Hope Memorial Gardens. Interior and exterior crypts for entombment are available. Each crypt in the mausoleum will hold one full body. A companion crypt is available to repose the remains of two individuals.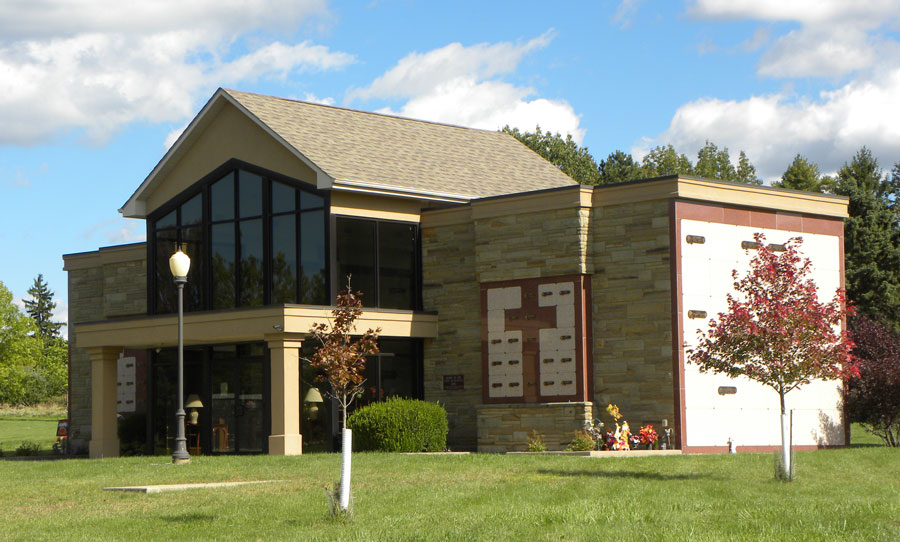 Private Family Estates enhance the traditional beauty of both cemeteries. A family has the opportunity to design and purchase a private mausoleum designated only for burials of their choice at Hope Memorial Gardens. A family counselor is available to meet and discuss this option with you.
Thank you for your interest in Luthern Cemeteries!
Please, fill out the form below and we will provide you with the requested information as soon as possible. Thanks!​